Trello and Asana dominate the market when it comes to project management tools. Especially if you are an Agile team, both apps are sure to grasp your attention.
Instead of having to go back and forth to have a Trello vs. Asana comparison, we have listed out detailed information in one place.
Bagging some of the major Fortune 500 companies, these two tools have been sharing the center stage. These apps are equally popular amidst startups and mid-level organizations as well.
The debate on Trello vs. Asana continues because both have a great set of features, easy to work with and beautifully designed.
Plus, these are both great for teams that follow Agile methodologies as they both are also Kanban apps, perfect to design workflow with Sprints.
The presence of numerous online reviews that hold equal praise for both can be a little confusing. To understand better what each tool entails, we attempt to dive deep and get to the core of this matter.
Let's begin, shall we?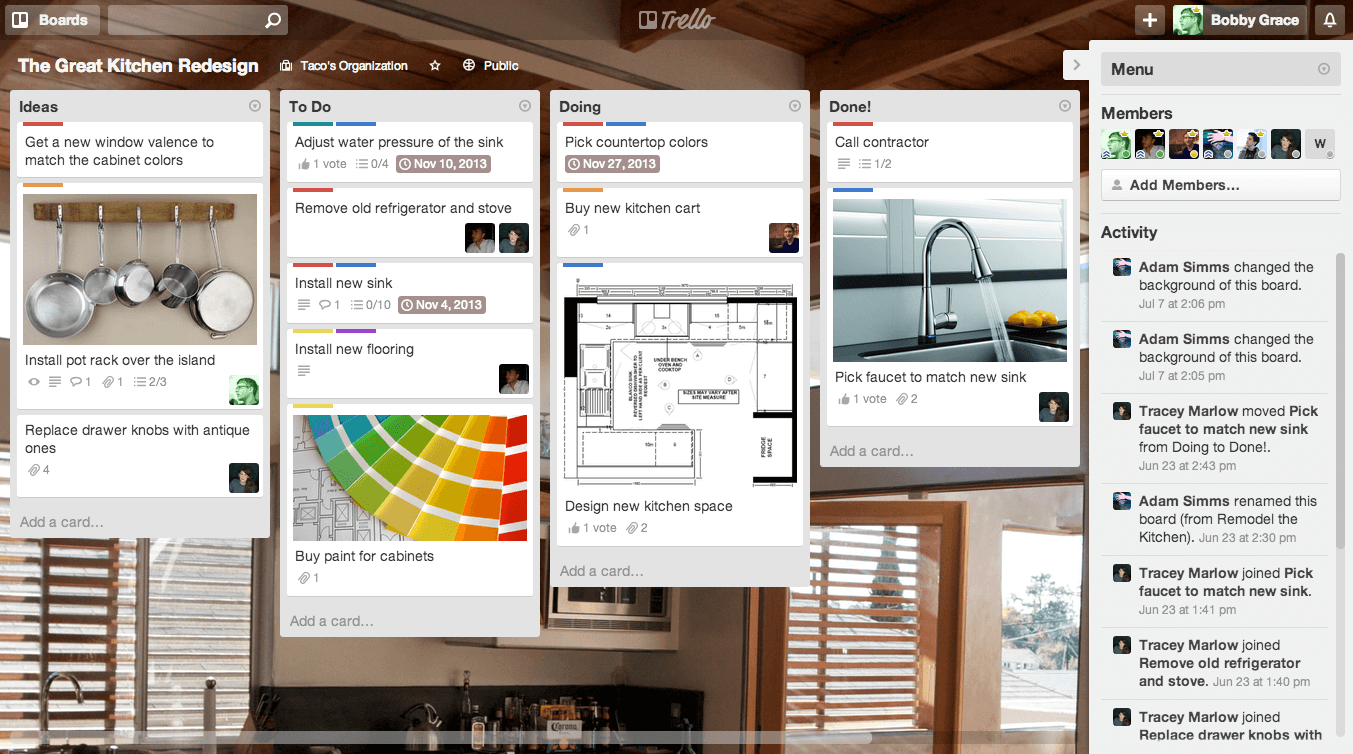 Released in 2011, Trello has quite made a mark in the project management industry in less than a decade. Some of the major clientele in its pocket include the likes of National Geographic, Adobe, Red Hat, British Red Cross and more.
This only shows how versatile Trello can be when it comes to usage in teams. Trello gives you control over your workflow visually. The Kanban structure helps you have better control over your workflow visually.
Easy, personalized boards help you manage tasks through lists and corresponding activities in cards.
Tasks can be assigned, and prioritized with ease. This tool helps you stay in sync with your team and keeps collaboration efficient. Plus, you can integrate it with multiple tools.
Key Features
Personalized Kanban boards with the option of setting board as Personal
Private, Team or Public views of boards
Board pinning on top of the screen (through stars)
Drag and drop functionality
Task management including task assignment, prioritization, task comments, and file attachments
Due dates for tasks
Customized and colored labels including color-blind friendly mode
Email notifications with customized frequency
Personalized access to boards
Sharing boards with team members or via external links
Team or Business Team (added security) creation
Third-party apps and integrations
Pros
Trello will make you feel powerful with these pro features:
User-friendly interface
High customization
Free forever version
Easy workflow management
Easy task management
Cons
These factors may not really show the sunny side of Trello:
No Gantt charts for reporting
No calendar
Limited functions available with the basic version
No issues and bug tracking
No risk management
No built-in time tracking functionality
Pricing
Trello offers the following pricing plans:
Plan
Pricing
Features
Trello Free
Free

Unlimited cards, boards, lists, checklists, team members and attachments
Max. file attachment size up to 10MB
One Power-Up per board plus basic integrations like Google Drive and Dropbox

Trello Business Class
$9.99/user/month

All Trello Free features
Unlimited Power-Ups with advanced integrations
Max. file attachment size up to 250MB
Better organization of boards with Collections
Customized backgrounds and stickers
Priority support with guaranteed 1 business day response

Trello Enterprise
$20.83/user/month

All Trello Business Class features
Single Sign-On (SSO/SAML)
Better security through 2-Factor Authentication
Personalized on-boarding assistance
Priority email and phone support (1 business day)
Check out our in-depth Trello Review here:
https://productivityland.com/review/trello/
---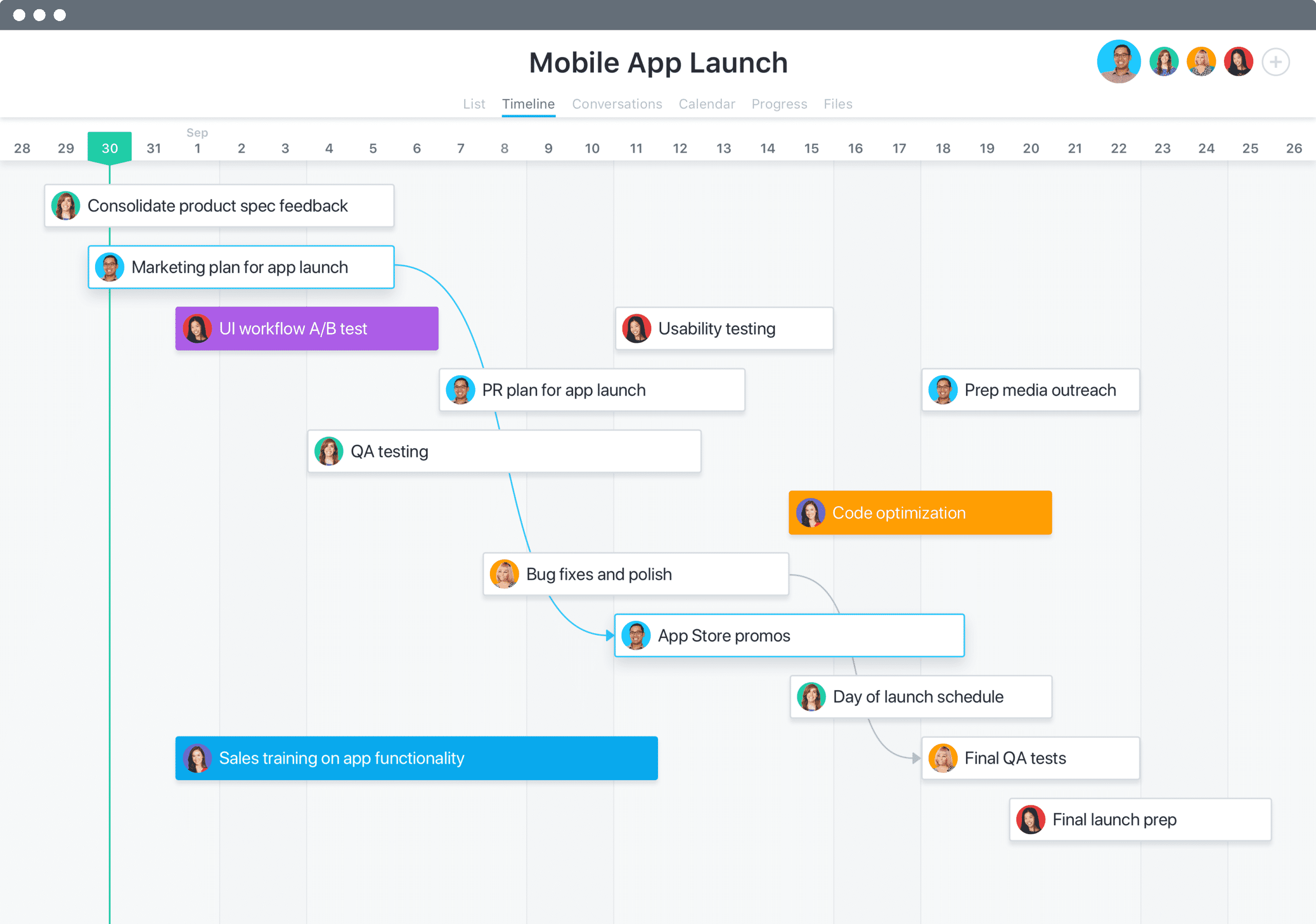 Founded in 2008, Asana landed a little earlier than Trello in the project management arena. In about a decade, it has established a portfolio of over 50,000 customers.
To name a few, Asana helps organizations like Airbnb, Deloitte, NASA, The New York Times and others stay on top of their game. With so many options to offer for project management and collaboration, Asana can be an easy pick for startups as well as industry giants.
You can simplify task management including task re-ordering through drag and drop, and task assignment with priority.
Through a central timeline, you can assess project dependencies and spot loopholes to keep workflow effective. With these and many more features, take a closer look through its key features, pricing models, pros and cons.
Key Features
Activity feed for centralized updates
Comprehensive task management
In depth project management
Timelines
Set goals, priorities, and due dates
Real-time updates on tasks and projects
Automatic updates to inbox
Customize calendars and select from multiple views
Email bridge
My Tasks list and Focus Mode
Notifications and reminders
Multiple workspaces for handling multiple teams
Kanban boards
Mobile apps for iOS and Android
Integrations with multiple apps
Pros
Here is what will make you happy about Asana:
Advanced task management
Easy team communication
Easy progress tracking
Effective for large teams and projects
Cons
These are some of the factors that may turn you off:
No built-in time tracking features
No risk management
No meeting management
Limited features in the free version
Can be overwhelming for beginners
Pricing Plans
Asana provides the following pricing plans:
Plan
Pricing
Features
Asana Basic
Free

Up to 15 team members
Unlimited projects
Unlimited tasks
Calendar view
Status updates

Asana Premium
$9.99/user/month

Unlimited projects and tasks
Task dependencies
Timelines
Advanced search and reporting

Asana Business
$19.99/user/month

Portfolios
Resource management
Custom fields
Priority support

Asana Enterprise
Custom Pricing

Data Export and Deletion
Advanced Security Measures
Advanced Admin Controls
Data Backups
User Provisioning and Deprovisioning
Check out our in-depth Asana Review here:
https://productivityland.com/review/asana/
---
Side-by-side Comparison: Trello vs. Asana
| | | |
| --- | --- | --- |
| Feature | Asana | Trello |
| Gantt Charts | 😃 | 😐 |
| Proactive Product Support | 😃 | 😃 |
| Free Version | 😃 | 😃 |
| Risks Management | 😐 | 😐 |
| Bug/Issue Tracking | 😐 | 😐 |
| Time Tracking with Reports | 😐 | 😐 |
| Meeting Management | 😐 | 😐 |
| Task Comments | 😃 | 😃 |
| Public Links | 😐 | 😃 |
| Advanced Filters | 😃 | 😃 |
| Color Labeling | 😃 | 😃 |
| File Attachments | 😃 | 😃 |
| List View | 😃 | 😃 |
| Calendar View | 😃 | 😃 |
| Multiple Assignees | 😃 | 😃 |
| Recurring Tasks | 😃 | 😃 |
---
Trello vs. Asana – Other Recommendations
Understandably, Trello and Asana are both very alluring options when it comes to task and project management. With their pros and cons, each tool seems to stand its ground – albeit holding different strengths.
However, in the past decade alone, numerous task and project management apps have surfaced the Internet. Most of these tools are free giving you a brilliant set of features. Others may need to get upgraded to avail their more prominent features.
Here are a few recommendations from us that can help you make up your mind about which tool to invest your time and finances in. Let's begin.
1. nTask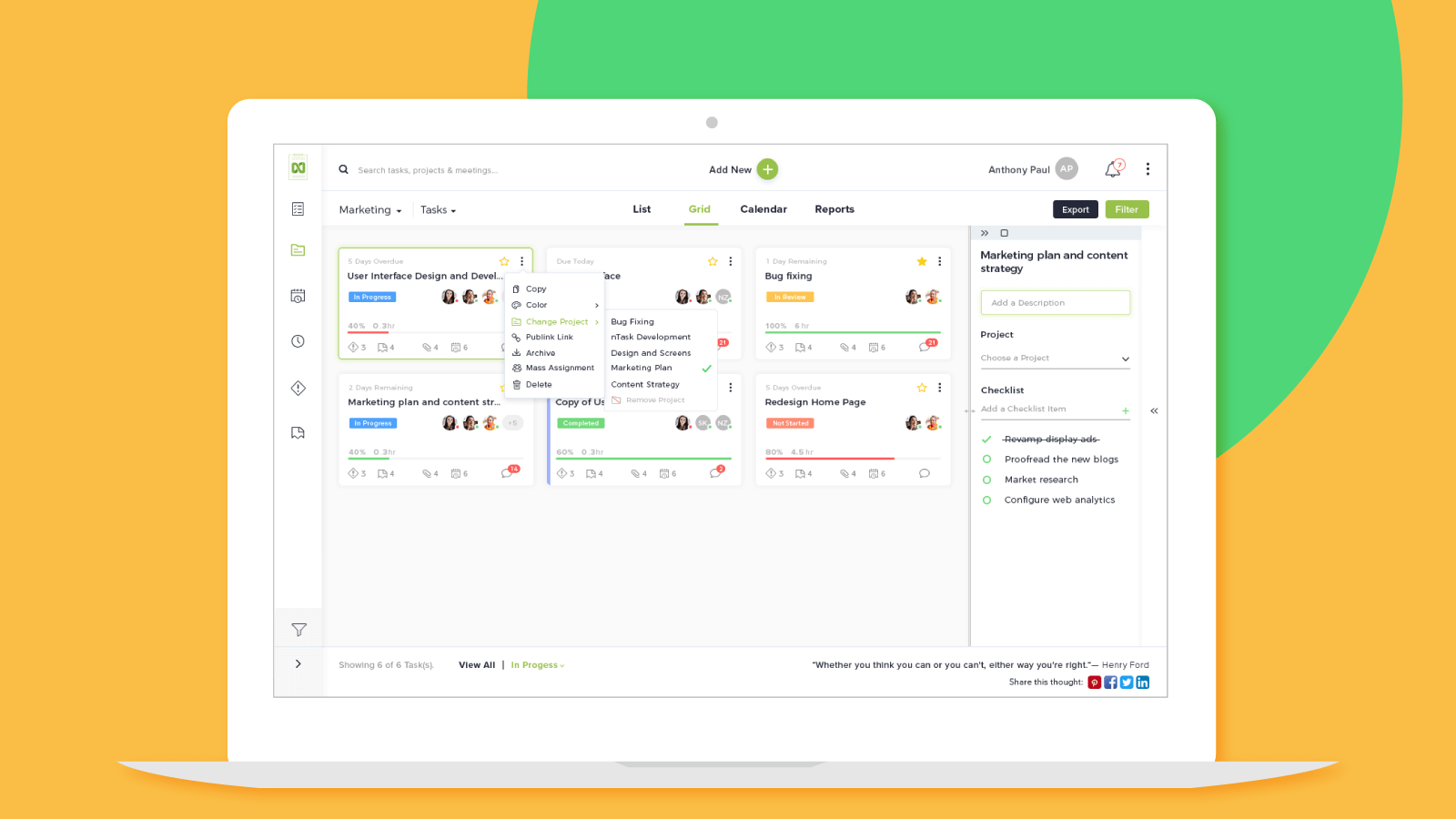 nTask is our first recommendation in this Trello vs. Asana showdown. If you are open to considering new options, have a look at nTask. It is a task management tool that offers you all the features of Asana and Trello combined.
Along with the primary task and projects module, you can avail a broad spectrum of features such as timesheets, meetings, issue management, and risk management.
Key Features
Here are the key features and modules that nTask offers:
Task Management
Project Management
Meeting Scheduling and Management
Timesheets and Time Tracking
Bug Tracking and Issue Management
Project Risk Management
Team Management and Workspaces
Integration with Slack
iOS and Android Apps
Pricing
nTask offers the following plans:
Free
Pro (at $2.99 per month/user)
---
2. Avaza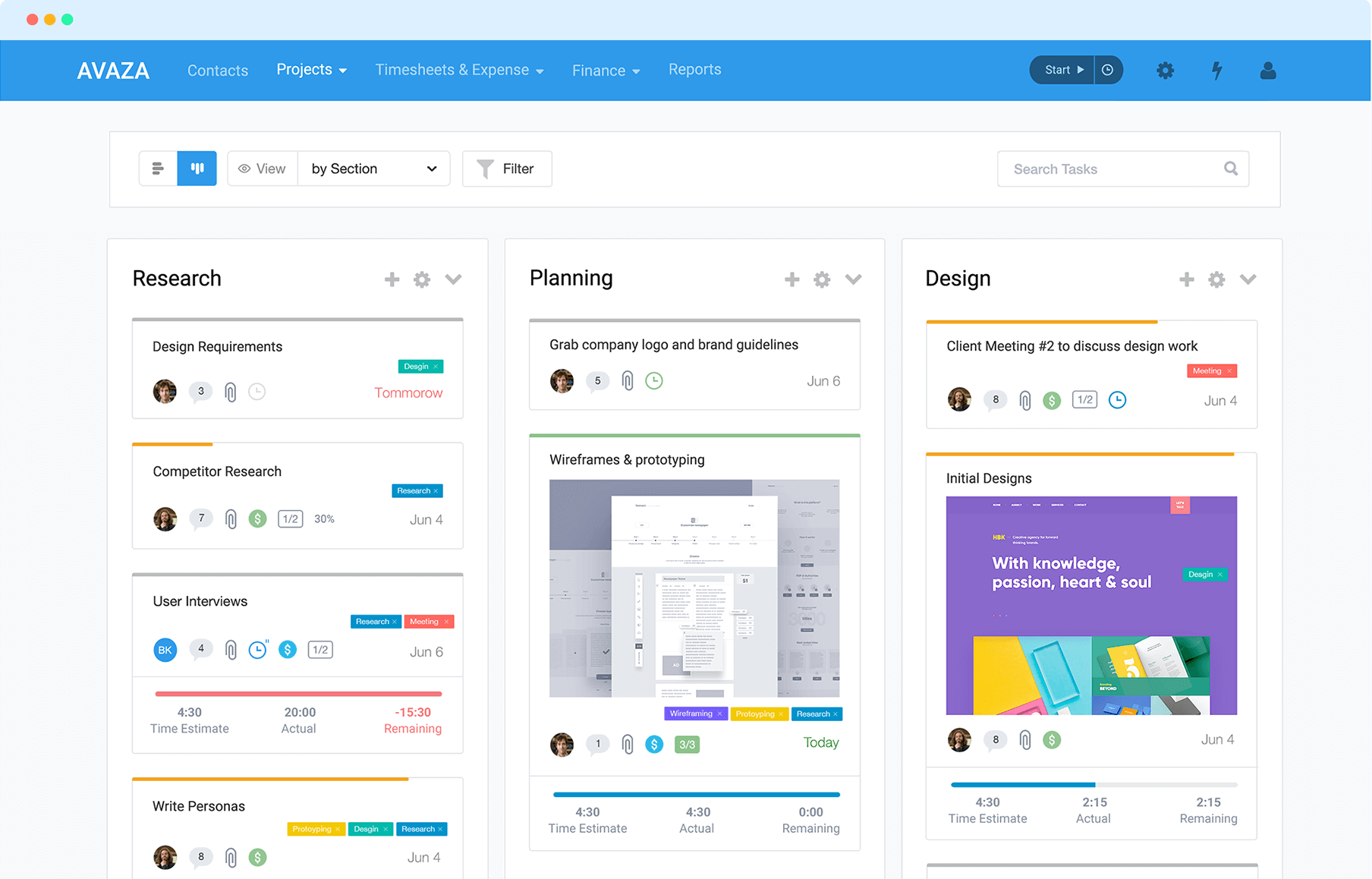 2nd on our list of Trello vs. Asana alternatives is Avaza. If you are looking for a task management tool that helps you manage your business from start to finish, Avaza is worth checking out.
This tool covers all aspects including project management, resource scheduling, time and expense tracking, as well as customer quotations and invoicing.
Key Features
Here are a set of functionalities you can get with Avaza:
Task management
Kanban Boards
Gantt Charts
Agile Burndown Charts
Time tracking
Activity feeds
Comments, file sharing and collaboration
Timesheets
Payroll management
Online payments
Billing and Invoicing
Cloud accounting
Credit notes
iOS and Android mobile apps
Pricing
Avaza offers the following payment plans:
Free
Startup (at $9.95 per month)
Basic (at $19.95 per month)
Business (at $39.95 per month)
Related:
Asana Alternatives for project management
---
3. Scoro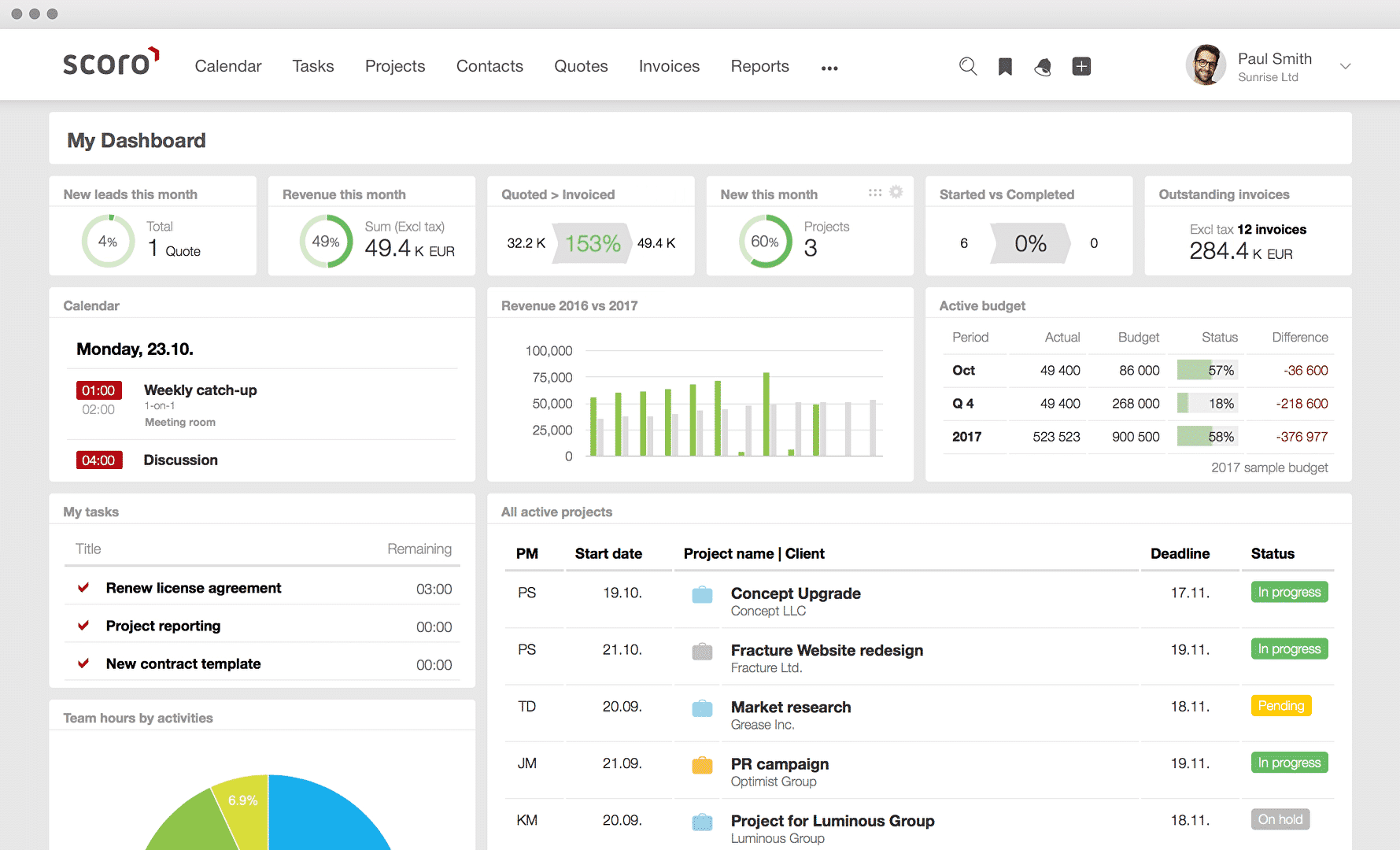 For the next Trello or Asana substitute, consider Scoro. Scoro is a business solution that offers a wholesome experience through a broad spectrum of features.
These features include modules relevant to task and project management, team management and in-built customer relationship management software.
Key Features
Get your hands on the following features with Scoro:
Task and project management modules
Meeting scheduling and management
Shared team calendar
Team communication and collaboration
Document management and file sharing
Real-time, customizable KPI dashboards
Contact database and management
Time tracking and billing for work
Comprehensive reports for various elements of the workflow
Quotation and invoice management with preset templates
Mobile apps for iOS and Android
Pricing
Scoro offers you pricing plans as follows:
Plus (at $22 per user/month)
Premium (at $33 per user/month)
Ultimate (at $55 per user/month)
---
4. TeamGantt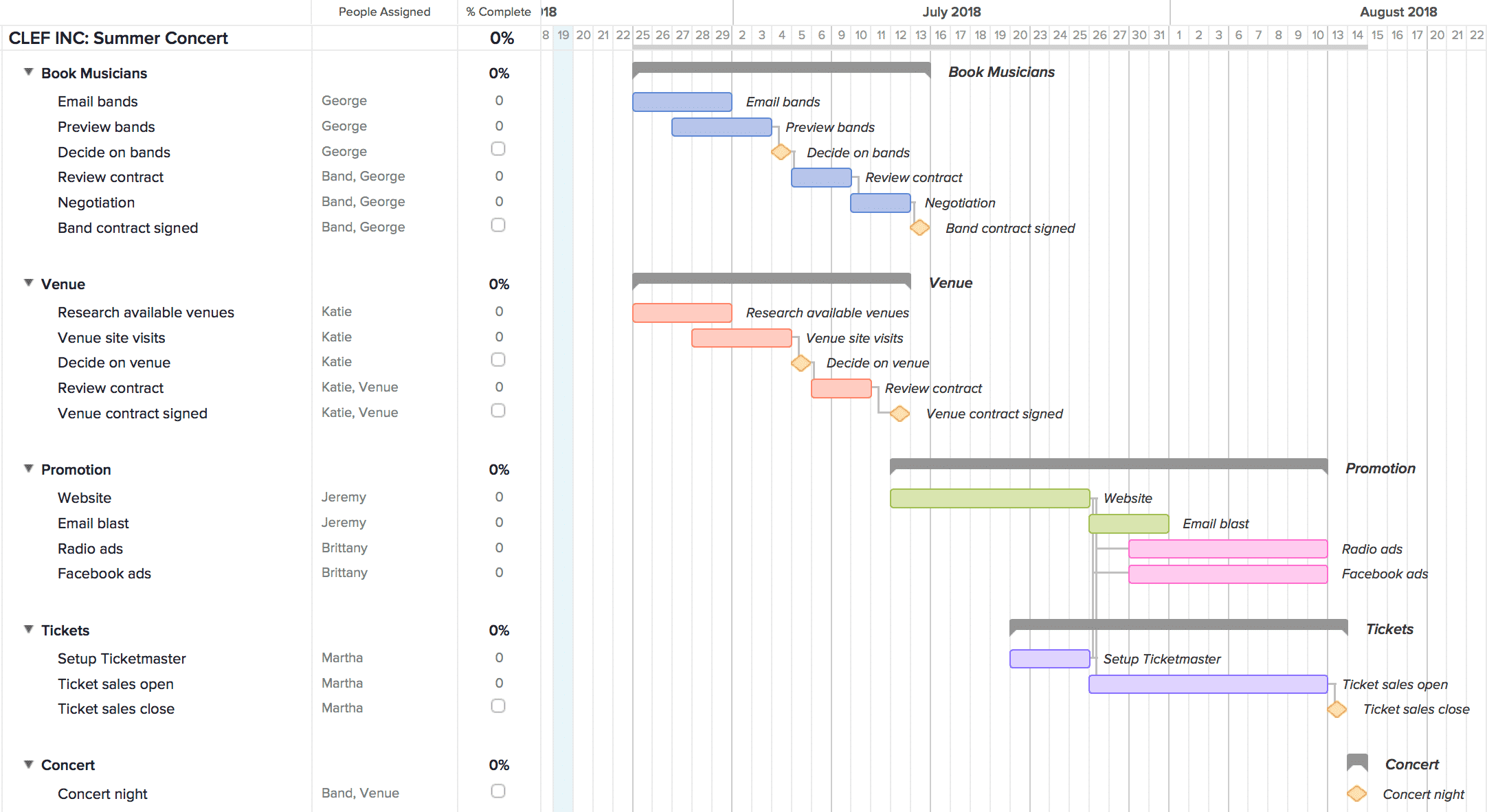 TeamGantt is one of the best project management software available today. To begin with, you can easily manage tasks with comprehensive task management features.
Project management is easier with templates, timelines and Gantt charts. Plus, it offers time tracking, project dependencies, filters and more. You can even embed specific project timelines to your website.
Key Features
Here is what you get with TeamGantt:
Task management
Subtasks, nested and recurring tasks
Project management
Gantt charts
Project templates
Time tracking
Planned vs. Actual timelines
Sticky notes for instant updates
Workload management
Email reminders
Mobile apps for iOS and Android
Pricing
TeamGantt offers you the following subscription options:
Free
Standard Team (at $49.75 per month)
Advanced Team (at $74.75 per month)
What is your take on this Trello vs. Asana showdown? Who do you think wins the crown of the best project management software of 2022? Which factors would you consider for your Trello vs. Asana comparison? Let us know in the comments below.
P.S. Productivity Land is one of the Top 10 Technology Product Review Blogs, according to Tekli.